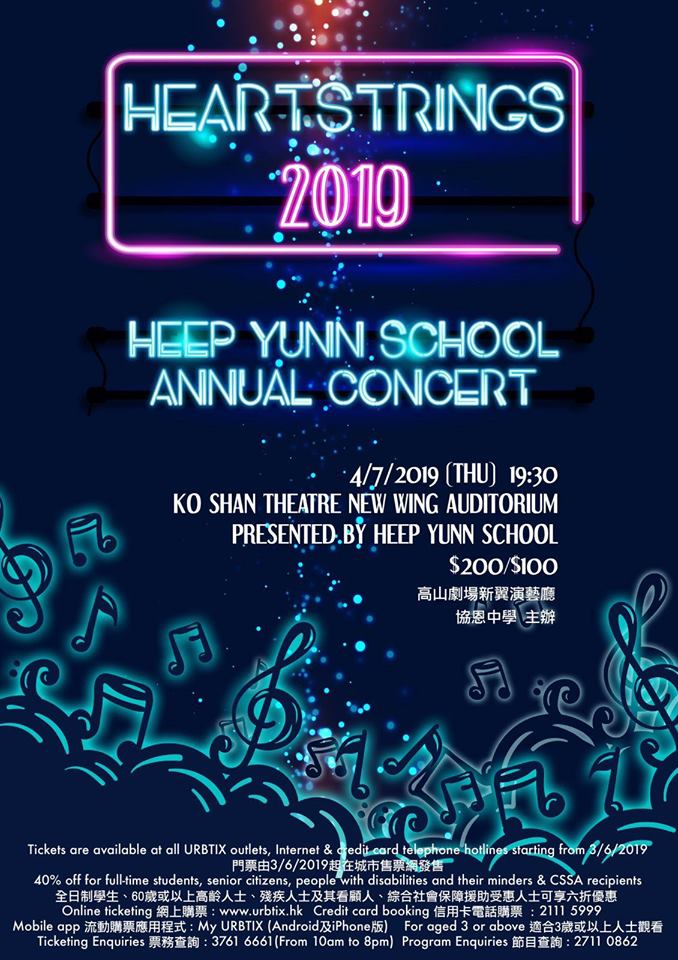 Heep Yunn School Annual Concert – Heartstrings 2019
Date: 4th July 2019
Time: 19:30
Venue: Ko Shan Theatre New Wing, Auditorium (77 Ko Shan Road, Hung Hom, Kowloon)
Ticket: $200/$100 (40% off for full-time students, senior citizens, people with disabilities and their minders & CSSA recipients)
Tickets are available at all URBTIX outlets, Internet & credit card telephone hotlines starting from 3rd June 2019
For aged 3 or above
Ticketing enquiries: 3761 6661
Programme enquiries: 2711 0862
———————————————–
Programme Highlights:
Choral Performances
尋夢者 – 冉天豪
江南可採蓮 – 陳怡
心動 – 黃韻玲 (冉天豪編曲)
The Awakening – Joseph M. Martin
Orchestral Performances
《慶典序曲》- 趙季平
Piano Concerto in A minor, Op 54 I. Allegro affetuoso – Robert Schumann
(Piano solo: Cheung Tin Wing Kelly)
Czardas Vittorio – Monti
(Harmonica solo: Leung Tsz Ching Steffi)
Symphonic Overture Op. 80 – James Barnes
Serenade for strings in E major Op.22 I. Moderato – Antonín Dvorák
Samson and Delilah – Camille Saint-Saens
Ensemble Performances
Invention No. 1 & 4 – Johann Sebastian Bach
Wind quartet, Op. 93 II. Scherzo & III. Fuga – Karl Eduard Goepfart
Putonghua pop medley – arranged by Chiu Yuet Yin and Yip Cheuk Ling
Histoire du Tango – Cafe 1930 – Astor Piazzolla
———————————————–
Do come and support our musicians. We look forward to seeing you all in the concert and celebrating the joy of music making together!