At Heep Yunn School, we offer intensive development programmes to cater to a wide range of learner diversity. We believe that God has endowed each and every one of us with special talents, and it is our mission to provide support for ours girls in order that they can acheive their personal best in all their ventures. Inside and outside the classroom, Heep Yunn girls will learn to realize their potentials through trial and hard work, with the strong will succeed.
The school offers 21 school sports teams, four orchestras, four choirs, debating teams in Chinese, Putonghua (Mandarin) and English, an two active drama group and over 30 other co-curricular programmes relating to languages, humanity studies, visual arts, science investigations, community service and leadership training. These programmes serve as engines for innovation and creativity, with emphasis on peer support and personal responsibility and commitment, allowing learning to take place in tier structures that cater to a wide range of different abilities.
We aim to cultivate intelligence, leadership, flexibility, tenacity and perseverance in all our students so that they will be well prepared for the challenges at this time of rapid community changes, locally and in the world today. But more than that, we believe that education is not just a stepping stone to personal success. Our pledge is to help our girls to develop, alongside academic excellence, a compassion for others, integrity and truthfulness, social responsibility and a commitment to care for and to serve others, in order that they will be ready for their responsibilities as future leaders of the community.
We believe that as educators we should not only empower each individual student to excel, but, more than that, also motivate the entire school community to empower one another and to bring out the best in all in a common effort. The distinctive achievements of Heep Yunn School in sports, music, debating, drama and science ventures all testify to the success of our school ethics and team work.
Our Chinese school name, "United in Grace", captures the very vision of Heep Yunn: what we take pride in is not only our ability to turn out student with remarkable academic achievements but, most of all, our extraordinary spirit of unity and service. Heep Yunn girls are comrades in a Christian community working in harmonious concert to achieve distinction in academic pursuits, in all extra-curricular programmes as well as in various services. Each stands in support of all others, in good times and bad. In their quest for brilliance, Heep Yunn girls are never alone. They have one another, and, with the unfailing loving support of Jesus Christ, they will all shine.
School information

| | |
| --- | --- |
| Year of commencement of operation | 1936 |
| Supervisor | Prof. Allan Yuen |
| Principal | Ms. Bella Leung |
| School type | DSS school |
| | Girls |
| School sponsoring body | The Council Of Heep Yunn School |
| Religion | Christianity – Anglican |
| School size (land area) | 11,000 m2 |
Vision, mission & school motto
The founders of Heep Yunn were committed to bringing education to young women and orphans in answer to the call of duty at a time of economic instability and threat of war in 1930's Hong Kong. They believed in empowering students to bring enlightenment to our nation and support to our people. To this day, the school abides by its dedication to serve in the love of Christ and to serve our fellow men.
Vision
It is the mission of the school to provide our students with a Christian education that develops the whole person in the following areas: moral, intellectual, physical, social, aesthetic and spiritual; to instil in our girls a spirit of public service, and to build a firm foundation in both Chinese and English.
Mission
To inspire our students to cherish and make good use of the talents each of them has been graced with, to excel, not only in one area of their work, but holistically in their all-round development.
Motto
In strength and grace we stand united In faith and love we are committed
Our School Song
香 島 之 九 龍 兮 , 遐 邇 皆 聞 。 有 女 校 兮 , 聲 譽 芳 芬 。
其 志 宏 且 高 兮 , 其 名 協 恩 。 振 紀 綱 兮 , 志 道 依 仁 。
據 德 復 遊 藝 兮 , 求 學 心 殷 , 為 世 光 兮 , 為 席 上 珍 。
智 圓 而 行 方 兮 , 純 潔 精 神 。 挽 世 風 兮 , 懇 懇 勤 勤 。
( 副 歌 ) 協 恩 , 協 恩 , 協 恩 。 萬 載 流 芳 兮 , 我 協 恩 。
萬 載 流 芳 兮 , 我 協 恩 。 協 恩 , 協 恩 。
春 風 喜 同 詠 兮 , 切 磋 頻 頻 , 練 體 魄 兮 , 健 我 心 身 。
中 西 樂 研 究 兮 , 學 識 日 新 。 宗 基 督 兮 , 智 理 皆 真 。
作 文 化 津 梁 兮 , 國 粹 長 存 。 倡 四 育 兮 , 德 智 體 群 。
萬 壽 永 無 疆 兮 , 我 校 協 恩 。 光 我 邦 兮 , 輔 我 國 民 。
香 島 之 九 龍 兮 , 遐 邇 皆 聞 。 有 女 校 兮 , 聲 譽 芳 芬 。
其 志 宏 且 高 兮 , 其 名 協 恩 。 振 紀 綱 兮 , 志 道 依 仁 。
據 德 復 遊 藝 兮 , 求 學 心 殷 , 為 世 光 兮 , 為 席 上 珍 。
智 圓 而 行 方 兮 , 純 潔 精 神 。 挽 世 風 兮 , 懇 懇 勤 勤 。
( 副 歌 ) 協 恩 , 協 恩 , 協 恩 。 萬載 流 芳 兮 , 我 協 恩 。
萬 載 流 芳 兮 , 我 協 恩 。 協 恩 , 協 恩 。
春 風 喜 同 詠 兮 , 切 磋 頻 頻 , 練 體 魄 兮 , 健 我 心 身 。
中 西 樂 研 究 兮 , 學 識 日 新 。 宗 基 督 兮 , 智 理 皆 真 。
作 文 化 津 梁 兮 , 國 粹 長 存 。 倡 四 育 兮 , 德 智 體 群 。
萬 壽 永 無 疆 兮 , 我 校 協 恩 。 光 我 邦 兮 , 輔 我 國 民 。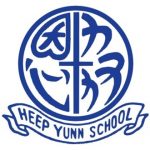 The School Badge and the School Logo are registered trademarks owned by Heep Yunn School.