Application for Admission to Forms One to Four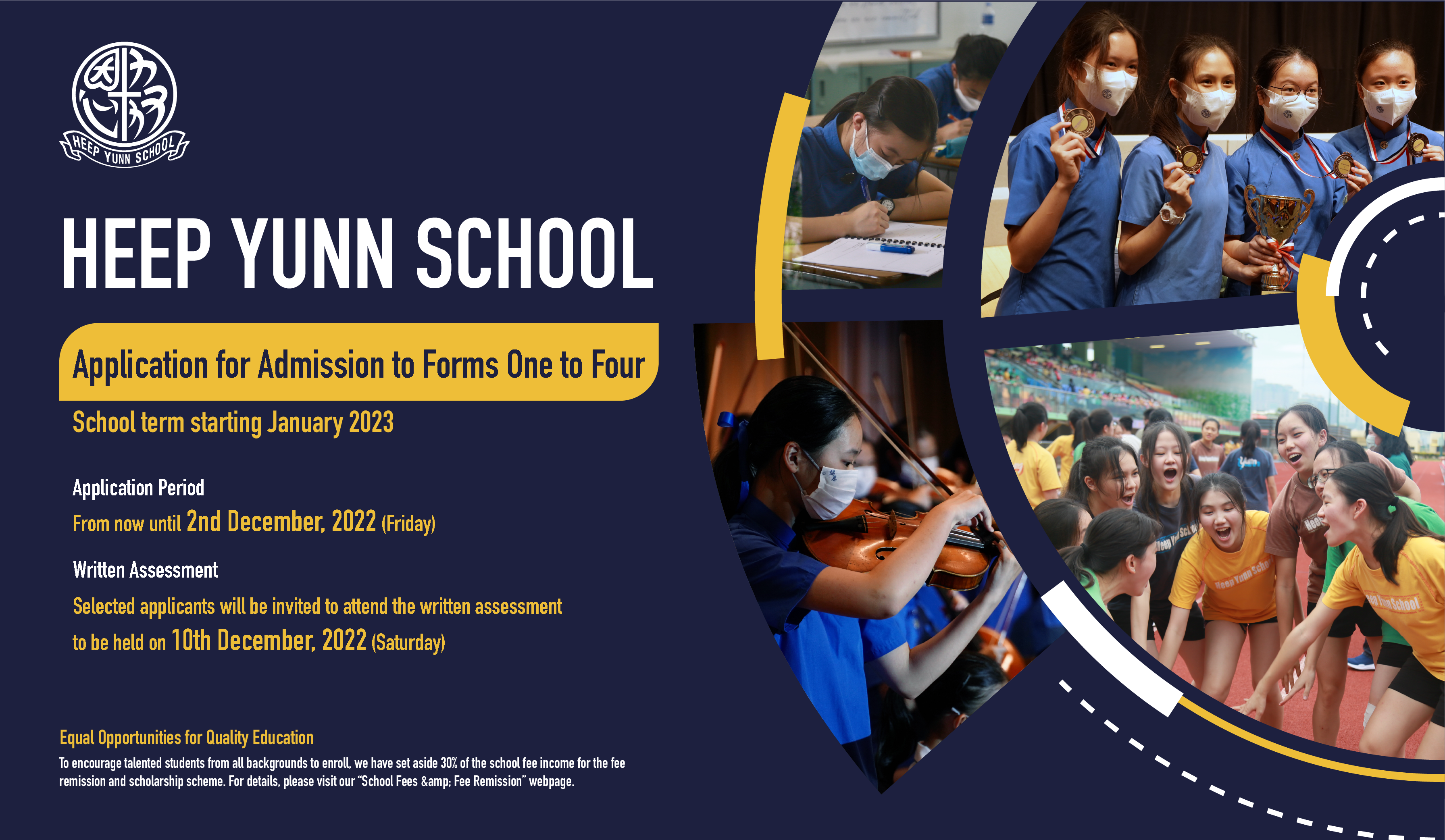 Heep Yunn School is a girls' school under the Direct Subsidy Scheme. It is the mission of the School to provide our students with a Christian education that develops the whole person in the following areas: moral, intellectual, physical, social, aesthetic and spiritual; to instill in our girls a spirit of public service, and to build a firm foundation in both Chinese and English. The School is committed to inspiring our students to cherish and make good use of the talents each of them has been graced with, to excel, not only in one area of their work, but holistically in their all-round development.
Admission to forms one to four are now open for application.
Application Period: From now until 2nd December, 2022 (Friday)
(Applicants who HAVE ALREADY SUBMITTED their applications on 1st October, 2022 or after DO NOT NEED to submit another registration. Suitable applicants will be invited for a written assessment.)
How to apply: Please fill in the online application form.
Online application form: Click here
Date of written assessment: Morning of 10th December, 2022 (Saturday)
Note:
Only selected applicants will be invited to attend the written assessment
Notifications to attend the written assessment will be emailed to parents no later than 7th December, 2022.
On the day of the written assessment, the applicant should hand in the following:
The application form (please print out the completed online application form)
Birth Certificate (copy)
Academic reports of the previous three years (copy)
Certificates for other academic achievements or co-curricular activities (copy)
Areas of assessment: English, Chinese and Mathematics
Date of Interview: Applicants having attained satisfactory results in the written assessment will be invited for interview together with their parents. The interview will be held in Mid-December 2022 (tentative).
Interview Topics: Any relevant topic which may include school life, learning experience, co-curricular activities, personal interests, etc.
Interview Language: English, Cantonese or Putonghua (if applicable / required)
Other Written Assessments: Form four admission applicants wishing to study Chemistry, Biology or Physics will be assessed separately in the relevant subject(s) after the interview.
Admission Criteria: Interview Performance (30%); Academic Performance (30%); Co-curricular Activities &Awards (20%); Conduct / Attitude (20%).
Results: Successful applicants will commence school on 3rd January, 2023 after passing both the written assessment(s) and the interview.
School Prospectus: Click here 
Applicants' information will be kept for two years. All submitted documents in the application process will be disposed of by the end of the 2023-24 academic year.
School Contact Information
Principal: Ms. B. Leung
Address: 1 Farm Road, Kowloon, Hong Kong
Phone No: (852) 2711-0862
Fax No: (852) 2715-3755
E-mail: hysadmission3@hys.edu.hk