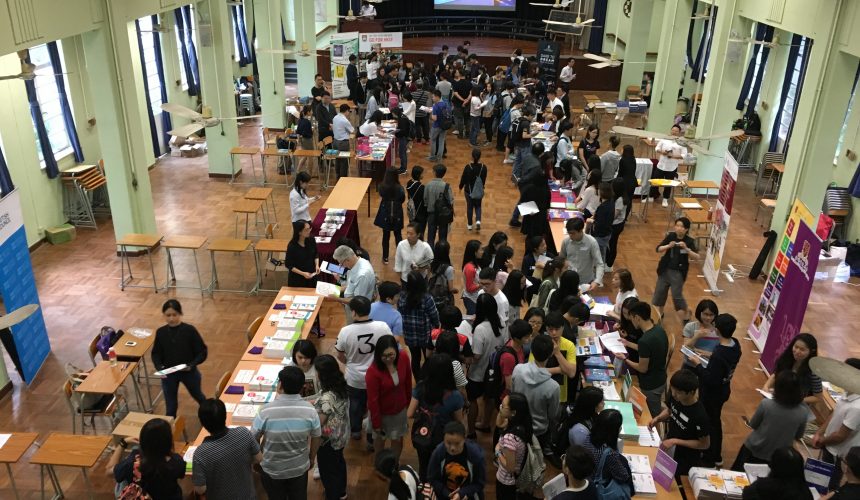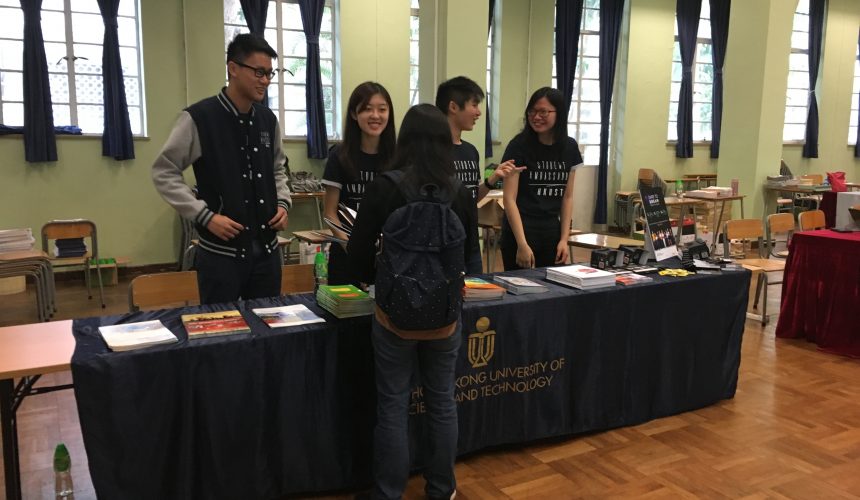 Education does not end with graduation from secondary school. To better prepare our students for their tertiary education and future careers, Heep Yunn held the annual University Fair on 8th April. We are honoured that many prestigious universities and institutions — among them the University of Hong Kong, the Chinese University of Hong Kong, the Hong Kong University of Science and Technology and the British Council — attended the Fair. The Fair kicked off with a parents talk given by Professor Patrick Lau from CLAP for Youth Project sponsored by the Hong Kong Jockey Club, in which Professor Lau discussed how parents could support their children in their Careers and Life Planning. Deans and veteran professors were also invited to give admission talks on specific courses. Students not only gained the invaluable opportunity to know more about the myriad of faculties the universities offer at the talks, but were also inspired by student leaders whom they interacted with at university booths set up in our School Hall.
The University Fair is undoubtedly a way for our students to know more about different university courses they could explore. At the same time, it allows them to scrutinize their own strengths and weaknesses and evaluate which faculties best suit their interests, so that they could better plan their own career paths. We are certain that this University Fair assisted students in their careers planning. Moreover, by having a concrete understanding of the universities' admissions requirements, students could set up clearer goals for themselves. We also hope that students from other invited schools, namely Diocesan Boys School, St. Paul's College, La Salle College and Carmel Secondary School, found the experience fruitful, too.
The University Fair would not have been successful without the support from the tertiary institutions and the HYS Parent Teacher Association. We would like to express our deepest gratitude for their generous help.
Text: Hazel Cheung 4D